That's what it is like in Jeannette Duyn's corner of the world…..REALLY Rosie! Except when its not Grey. She has been actively breeding birds since 1980 and started with Cockatoos such as Moluccan and Leadbetter, plus some Amazon parrots too. Through the years she has eliminated all other species and her focus is entirely on Rose Breasted Cockatoos and African Grey parrots.
Privileged to visit this dazzling, bubbly redhead's domain, I saw many great ideas I'd never thought of before. The first great planning idea is the fact that the aviaries all face a side of the house where they can be viewed at all times. If Jeannette desires, she can walk out on a large deck for a closer look. Her nursery room is also on the aviary side of the house so any time spent with the hatchlings, can also be spent observing what the pairs are 'up to' in their outside cages.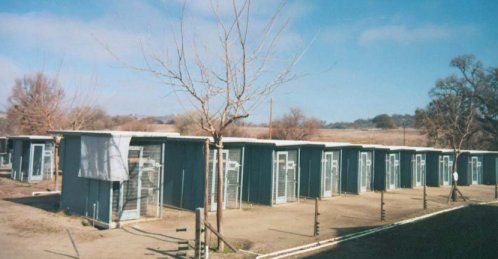 Rows of state of the art aviaries, each housing a pair of Galahs.
Each cage is a work of art in itself, with much thought and care put into every aspect. All cages are 4' wide, 6' tall and 7' long with framing of 4 X 4's and metal pipe. Side panels are of ¾" plywood and some of these panels are removable by means of a fastener in the summer, during the heat for increased air circulation. Wire for the cages is ½ X 3", 12 gauge and pine 2 X 4's are what the perches are made of. Double entry nests are used, with dimensions of 24" wide, 14" deep and 24" high. The nests are of wood with metal lining so the birds cannot chew their way out. The floor of the cages is sand which can be easily raked clean.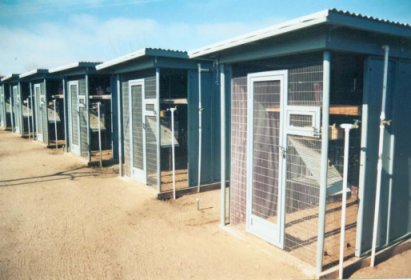 Close up shot of the immaculate yard and "Rosie Houses".
Aviary roofs are of PVC, rather than fiberglass. PVC will not dry out and split in the sun.. A plywood layer is just below and attached to the PVC, which amounts to a double roof and acts as insulation against the heat and cold of the area.. The roof is also hinged so it can be lifted up for maintenance of the sprinkler system or just for extra ventilation on hot summer afternoons. Summer temperatures often are over the 100 degree mark here and it also freezes many winter nights.
Misting systems in all the cages are on timers, giving the birds ten to fifteen minutes time to bathe. However on the extra hot summer days misters are left on all afternoon. Every cage also has the luxury for its inhabitants, of having electric heat lamps. Each heat lamp is able to be slid on a track, back and forth to regulate the amount of heat needed, depending on the coldness of the night. Watering systems are on every cage with automatic faucets. A small amount of Nolvasan is added to the drinking bowls as a precaution to the well water.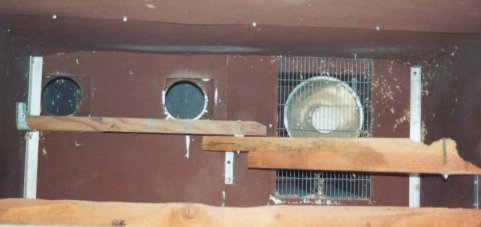 Inside view of the back of the flights.  The two nest box entry holes are on 
the left and the ceramic bulb heater, covered with a wire panel, is on the right.
Jeannette has also invented a handy device made of a PVC frame with wire fastened securely around the whole thing. This second 'cage' can be wheeled up to the entry way of each door for cage servicing when she needs to go inside. It has a set of wheels on the front side and a door on the front and back so she can enter through one door, close it and enter the cage in safety with no escapees. Because of the nature of each cage being a separate free standing structure, there is no double door situation and in order to enter the large door to the cage she came up with the ideal solution.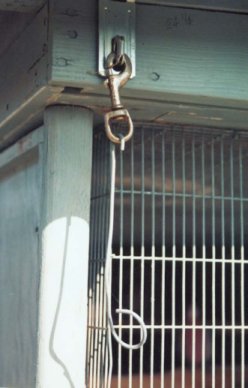 Speaking of safety and doors, Jeannette tells a funny story on herself with a mischievous twinkle in her eye. She accidentally locked herself inside one of the Rosie cages one afternoon. All her pairs of Rosies are luckily very sweet and tame and they perched on her and talked to her the whole time she had to wait for her husband to come along and set her free. She used her noggin' again and fashioned a stiff piece of wire with a hook on both ends. One of these simple but invaluable hooks hangs in an accessible place, reachable from the inside area of each cage.
All the flock is fed in the late afternoon, and they are fed basically the same food. Their diet consists of soak and cook, which is four kinds of beans, lentils, brown rice, mixed vegetables and of course the fresh fruit and vegetables. The Rosies are fed a smaller portion than the Greys as Rosies are prone to gain weight it seems by just looking at food! They are all fed Roudybush pellets. Jeannette also feeds large amounts of broccoli and gives plenty of cuttlebone for the calcium maintenance.
It is pretty easy to tell that Jeannette loves her Rosies passionately and she has nothing but great things to say about the species. She describes them as clown-like, not temperamental, and they stay tame even if not handled a lot. Probably her favorite plus about them is that they are quiet and do not scream like the large white Cockatoos. It is easy to have a Rosie in a small apartment or condominium for this reason. They are entertaining, sit on shoulders well, can be taught to do tricks and are great talkers. The best thing is, Jeannette feels they are really a fun bird to breed, and she has even had breeding success with two year olds in the past. Rose Breasted are considered mature at the age of two.
Jeannette starts hauling in the eucalyptus right after Christmas, in January each year for the Rosies to play in and construct their nests from the leaves. They begin laying in February and the first babies hatch about February 25th. Both male and female help to incubate the eggs and the usual number of eggs laid are at least five.
The nursery she maintains looks like a hospital operating room with everything you could imagine packed into a spotlessly shining bright area. Jeannette shared a few tips with me about raising babies. She says gives a bit of cranberry juice in the hand feeding formula to the babies to stimulate their kidneys. Chamomile tea is given to calm over- active babies and echinacea for immune system problems. She reasons if the babies are calmer they will absorb the food better and therefore have better weight gains.

This was an incredibly well set up nursery!  Microwave, thermometer,
clock, tubs, wastebaskets, good light source, feeding syringes, formula,
wipes, tissues, baby scales, towels, disinfectant, bottled water, file
for record keeping, brooder and even a television line the walls of the
nursery.  It took a lot of thought and expertise to design this one!
Aviculture has come a long way Jeannette feels and has attracted a type of breeder who puts the welfare of the birds first and allows their breeding pairs to incubate their own eggs. She is happy that the birds are getting more attention paid to their diets and environment. Many years ago aviculturists were secretive and unwilling to share their knowledge about birds she told me. I certainly can see that Jeannette is more than willing to tell me anything about her flock and how it is maintained. Every visit I pay her I learn many new ways of thinking about my own feathered crew and ways to benefit their well being. If every one who keeps birds had Jeannette's gusto for her bird-kids and life in general, there would be a world full of tremendously spoiled and fortunate psitticines.
***********************************************************************
Jeannette is now retired from raising birds, but keeps one Rose breasted cockatoo as a pet. This article was written in 1999 and things do change, but I still keep in close contact with this extraordinary woman, whose brains I pick all year around and especially come Rosie season. Her heart is still 100% with the "little pink ones" and she loves nothing better than to talk about them.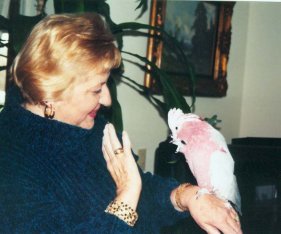 It is very easy to teach a Rosie to wave back to you on command by 
merely touching his thigh lightly.  He will automatically raise his foot, 
and in a few tries will raise it in a wave without the touching physical
prompting.  He sees a wave from us and he responds.  Jeannette 
showed me how to teach this easy trick to my Rosies.
Continued on Page 2 with additional pictures
Email Me
Photography by Susie Christian©
All Rights Reserved by respective parties. No portion of this site may be duplicated or
reused in any form without the express written permission of Susie Christian
Last Updated July 10, 2010