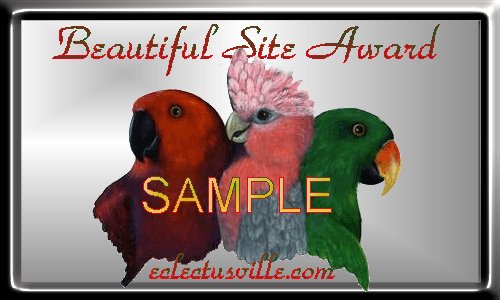 How to win Eclectusville's Beautiful Site Award:
Your site does not have to be about birds or animals... it can be about anything! As long as kids, adults, and all animals can look thru it safely!
Is your site (or page) friendly to all, animals, kids and adults?
Is it informational, educational, and/or just plain cute?
If you can answer YES to these questions... then you are a potential winner!!
All you need to do is send an email. Please make sure you include the following:
Please make sure Beautiful Site Award is included in the subject line, and:
In the body:
Your email address
Your URL
A brief description of your website
Please allow up to 2 weeks for the award to arrive in your email.
Once it is received, please post it on your site within 7 days, and link it back to eclectusville.com.
Page designed by Lisa at pM webDesign.
Please direct questions specifically about this site to Lisa@planetmurph.com
Photography by Susie ChristianŠ
All Rights Reserved by respective parties. No portion of this site may be duplicated or
reused in any form without the express written permission of Susie Christian
Last Updated February 22, 2003