Her original mate, Grandpa, died just a month under five years ago, on December 4, 2001. These photos of Grandma and Grandpa were taken shortly before his death and he wasn't looking his healthiest here.
Together, they gave Dale Thompson and myself many lovely pure Vosmaeri babies. Three of their offspring still live with me today. Big, gorgeous, sweet, mellow babies, just like their parents. Grandma raised many babies and fostered many eggs, but her crowning achievement was hatching a fostered Umbrella Cockatoo egg, which hatched the same day as her own baby Eclectus egg. She even fed the strange looking little tyke for a period of time, not discriminating against it because it had long yellow "hair", and her baby was naked as a jay-bird.
Dale Thompson is a talented photographer and he took many pictures of Grandma and Grandpa. These photos appeared in Bird Talk, Watchbird magazine and one shot was even made into a huge poster. I have one of these posters hanging on my wall, and it takes my breath away when I look at it and remember that was Grandma and Grandpa.
Grandma was a single gal for about a year after the original Grandpa died. I managed to find her an older wild caught Vosmaeri male to keep her company. Grandma had quit laying fertile eggs before Grandpa died, but they liked to play house in the nest. By now she was laying just one infertile egg and maybe a misshapen egg now and then. Grandma's odd egg shown with a Quarter and a normal size Vos Eclectus egg below.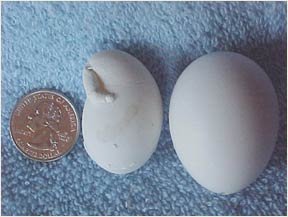 She loved her new Grandpa Steffen right away and they got along very well. Below are two photos of Grandpa Steffen, also a wild caught Vos.