Elf Shoes
Susie Christian, Morro Bay, CA
For those of you who hadn't guessed, Eclectus parrots definitely live at the North Pole. After all, Eclectus, who sport the festive holiday red and green colors year round, certainly ARE the official Christmas parrot. Santa and the Missus have a pair of Eclectus in their living room, so they may see and feel the Christmas spirit in red and green feather all year around. And my goodness, the workshop where the elves create Christmas toys has at least a half dozen Eclectus flying around! Assisting the elves by testing the toys they make, and performing general consulting on safety and design, the holidays couldn't happen without them.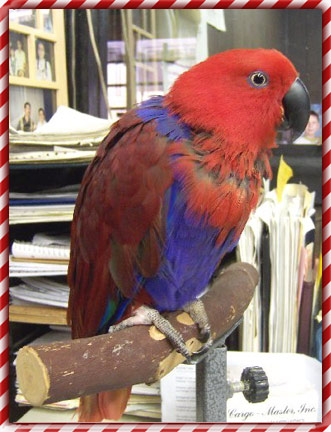 Jasper Eclectus has charge of all toys that speak human words, Sheba checks the quality of all dolls and costumes as they tumble off the assembly line, and Muzzy masterminds the workings of computer game toys. Solomon listens to the musical instruments and makes sure they are in tune, while Ginger tries out tiny baby toys to make sure they are safe and durable. Hoover, who suffered a brain injury and can't fly, as a result, sits in place chewing open children's letters to Santa, and organizing the requests for toys according to the country of origin.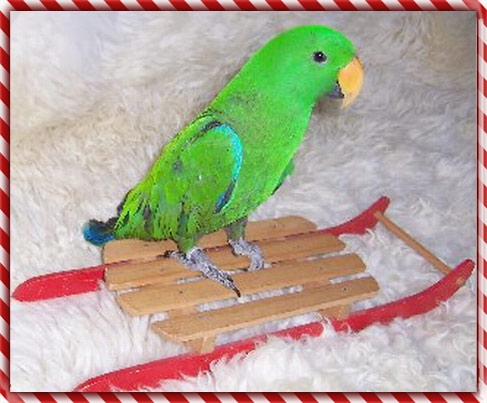 New Eclectus helpers to the work force this year are Harvey and Jasmine, who were hatched in the spring. They were hastily shown the ropes and enlisted to help in the last minute, frantic toy-making push. Trying here and there to be useful and fit in, they picked up their duties quickly, helping the older, more skilled Eclectus assist the elves in their last minute rush assembly of toys.
Jasmine was rapidly becoming an excellent errand girl, running supplies to and from different toy manufacturing areas, serving refreshments to the elves and learning how to package the toys that required wrapping.
Harvey Eclectus was being educated in the shipping and receiving department. This was one hectic area during December, filled with last minute orders and shipments. Being a brilliant young Eclectus, Harvey learned his duties in a matter of days under the tutelage of Tommy-toodles, the master elf of postal comings and goings. Harvey soon mastered the fine art of ripping packages of supplies apart, unpacking them, and passing them on to Jasmine for distribution to the proper work bays for the elves to assemble into toys. Santa was extremely pleased with his two new little Eclectus helpers.