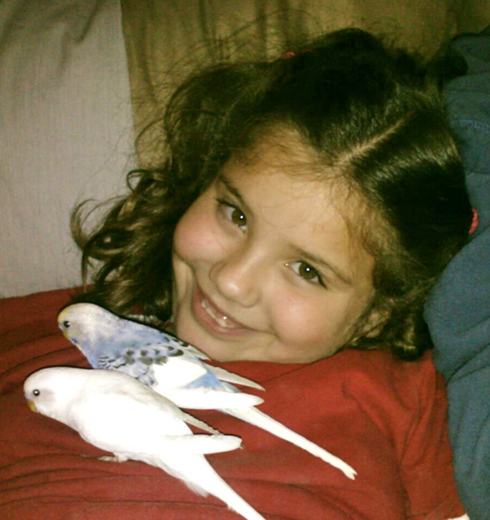 My grand daughter, Ayla Garza and her pair of pet Parakeets.
Question:  Can you please give us some basic guidelines for breeding budgerigars?  We are beginners and we want to know if we should breed budgies in a colony or in cages.  Is one method better than the other?  When is the best time to band budgies and how is it done?
Budgies are the most commonly bred parrot-type bird, but you should follow several guidelines before you start.  Begin with young birds.  Budgies mature between 9 and 12 months of age, and by purchasing young birds you won't mistakenly buy someone else's breeding problems.  Also, when starting with young budgies, the birds will have enough time to become accustomed to your schedule and feeding program.
When budgies mature the males have bluish ceres and the females have brownish ceres.  The color difference between the ceres works well for sexing standard-colored budgies, but several colors or mutations, such as the rarer lutinos and albinos, will sometimes dilute or not show colors on the cere at all.
Breeders who want to show their birds will cage breed to control the parentage of the young, so certain desirable traits are bred into the birds while any poorer traits are bred out of the stock.  Breeders who want certain colors or mutations in their birds will cage breed so they know the genetics of their offspring.  Breeders must keep accurate records for good production of new mutations.
Most beginners are not concerned with showing their birds or obtaining certain mutations, and can either cage breed or colony breed their birds.  When colony breeding budgies, keep a few things in mind.  Make sure that you have an even number of pairs.  An extra female can often fight over a nest or another female's mate, destroying the balance of the colony.  Some breeders add an extra male to the colony to ensure that enough males exist for the females.