As an adult, I visited Mexico and Europe and every time the whole trip was planned around which zoos we would be visiting.  But we get busy with life, staying home birdkeeping, and sometimes forget where our love of creatures all began.
Fortunate are the folks who live near a large zoo.  But really I am just as fortunate here, because the only zoo this county has, is not more than a forty five minute drive from most anywhere in the county. 
I stopped by the Charles Paddock Zoo in Atascadero the other day and it was like coming home again.  This zoo was established in 1955, and it is one of the smallest accredited zoos in the nation.  It is named after founder Charles Paddock, a park ranger who rescued injured animals and housed them in shelters at Atascadero Lake Park in the 1960's.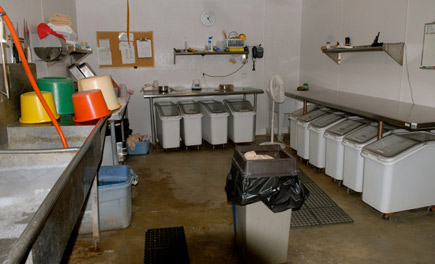 Charles Paddock Zoo kitchen and food prep area.
It had been way too long since my last visit.  Of course my trek around the zoo focused on the birds but I took my time and spent nice quiet moments, just observing each exhibit and every creature in it. >>More